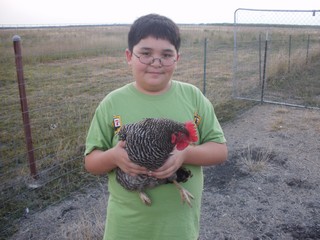 If you're looking for chickens, you need to talk to us first. The chickens that we have on hand usually range from baby chicks to adult chickens.  Tell us what you're looking for and we can help you make the right decision.
We primarily sell pullets, but we do also sell some straight run chicks as well.  Our Polish Top Hats and Silkies are everybody's favorites and you just have to come out to see them.
The Silkies, known for their fluffy silky plumage are calm and friendly.  They also have some other unusual characteristics.  Give us a call and we'll tell you more about them.
The crested breeds of chickens are real eye catchers.  The Top Hats that we have are no exception.  Come on out and see what we have in stock.  These birds will make you laugh out loud!
If you're looking for egg laying hens, the pullets we sell are pure bred and are in the good to excellent category for laying eggs. We usually have chickens that will lay white, brown, dark brown and green eggs. Please let us know if you have a preference and we'll help you make the right selection.